---
A documentary series highlighting the obstacles and issues facing veterans
as they transition home from active duty.
---
Heritage Ford is proud to present "Coming Home", a documentary series focused on highlighting the obstacles and issues facing veterans as they transition home from active duty.
From veterans that are Purple Heart recipients, to those struggling with mental health issues and job training opportunities, "Coming Home" hopes to raise awareness for the ongoing needed resources for our men and women soldiers returning home from war.
According to the Pew Research Center, there are over 7,000,000 U.S. Military veterans from the Gulf War alone, and another 9,000,000+ from the other combined wars and conflicts in United States History. Yet, only 3.5% of veterans surveyed said they participated in a service sponsored transition program upon returning home from activation. In our series, we'll talk to some of the Vermont agencies working to make transitions easier and learn more about how we might better support our soldiers.
At Heritage Ford, we're always interested in helping to foster the important conversations which are necessary for our community to have. 

---
Coming Home Documentary Series
We are pleased to present "Coming Home", a documentary series focused on telling the stories of the agencies and non-profits dedicated to providing resources to soldiers returning home from active duty.  From PTSD to job training to earning purple hearts and more, the issues facing our veterans upon their return can be enormous.  It is a complicated issue that doesn't just have one, neat and concise answer.
In the third release in our documentary series, we meet Retired Army Veteran Major Shannon Blake, who started WARRIORS SOAR, a non-profit aimed in assisting in the healing and reintegration of wounded military veterans. Through Support, Outreach, Assistance, and Recovery, Warriors SOAR is working on the front lines to help a soldier's transition be more successful.
A special thank you to Chad Hollister for becoming a major part of the "Coming Home with Heritage Ford" series by lending his talents and voiceover work. Stay tuned for upcoming releases in this series by following our page at Heritage Ford
---
14th Star Brewery & Danger Close
In our second installment of Coming Home with Jamie Lee, we partnered with 14th Star Brewery in St. Albans, VT. Owners and military veterans, Steve Gagner and Matt Kehaya run the popular brewery in Franklin County.
After returning home from active duty, Steve and Matt turned their hobby into their full-time endeavor and haven't looked back.  With a dedicated portion of their profits going to support local and veteran causes, does a great job of giving back to their community.  But, last year, Steve and Matt took it a step even further when they opened Danger Close Craft Distillery. Aside from crafting spirits, Danger Close also operates as a job training and resource center for soldiers transitioning home from active duty. Steve explains that sometimes soldiers don't fully realize the extent of their skills, and how well they can translate to the civilian world. And how sometimes that bit of extra support can change the whole trajectory of a veteran's transition into a successful one after coming home.
---
In our first installment of Coming Home with Jamie Lee, we focused on the organization, Purple Hearts Reunited. Founder Zac Fike developed Purple Hearts Reunited to successfully reunite lost Purple Heart medals with their rightful owners. Based in St. Albans, Fike - with a small staff of two others - carry out their mission on a nationwide scale.
Fike knows first hand what it's like to earn a Purple Heart Medal. He earned his own during a tour of duty, when his sleeping cabin took fire. Since then Fike and his team have traveled all over the country looking to return medals, sometimes three generations later. And, as a decorated U.S. Army combat veteran, Fike talks about coming home and what resources we might need to further support our transitioning troops.
---
In this installment of the Coming Home With Heritage Ford series, we look at Veterans Count, the fundraising program of Easter Seals, which provides confidential emergency financial assistance and services to veterans in need during their transition home from active duty. Veterans Count Vermont is focused on supporting our military and their families, and we are pleased to help tell their story. you can learn more about how to get involved at www.vetscount.org/vt
---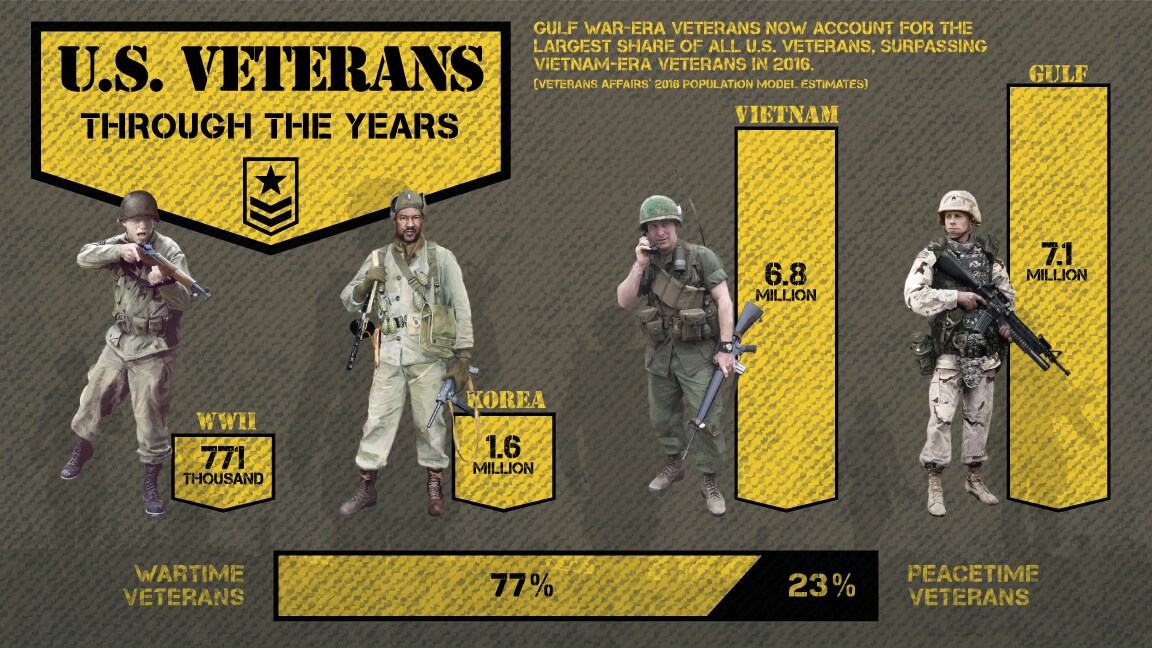 Gulf War-era veterans now account for thelargest share of all U.S. veterans, surpassing Vietnam-era veterans in 2016, according to Veterans Affairs' 2016 population model estimates. As of last year, there were 6.8 million American veterans who served during the Vietnam era and 7.1 million who served in the Gulf War era, which spans from August 1990 throughthe present. (Some veterans served through both eras.) There were also around 771,000 World War II veterans and 1.6 million who served during the Korean conflict, the VA estimates. About three-quarters (77%) of veterans in 2016 served during wartime and 23% only served during peacetime.
Click below to check out our Red, White & Blue inventory!