Heritage Ford's UPDATED Service Procedures
Our Service Department along with Parts and Collision Repair, as well as their indoor waiting areas are open. As with our sales showroom, in accordance with South Burlington city ordinances, capacity is limited, and facial coverings are required. 

-

 

We have taken many sanitary and distancing precautions

 

Here are some of the changes you'll see in our service departments: 
-
We'll be administering extra cleaning and disinfection protocols
Every car will be thoroughly disinfected when it first enters, as well as right before delivery back to the customer.
-
Don't worry about coming inside to drop off
If you do not wish to come inside, you are free to use our night drop system, even during the day. Just drop the keys in the box with your notes-and we'll take it from there. When you come to pick up, we can arrange to leave your vehicle in a specified place, with keys inside, reducing the amount of human contact to zero.
-
Even paying is simple
When your service advisor calls to check-in with you, they will give you the option of paying over the phone by credit card. It's simple to pay remotely
Welcome to Our Service Department
At Heritage Ford, our highly qualified technicians are here to provide exceptional service in a timely manner. From oil changes to transmission replacements, we are dedicated to maintaining top tier customer service, for both new and pre-owned car buyers! Allow our staff to demonstrate our commitment to excellence.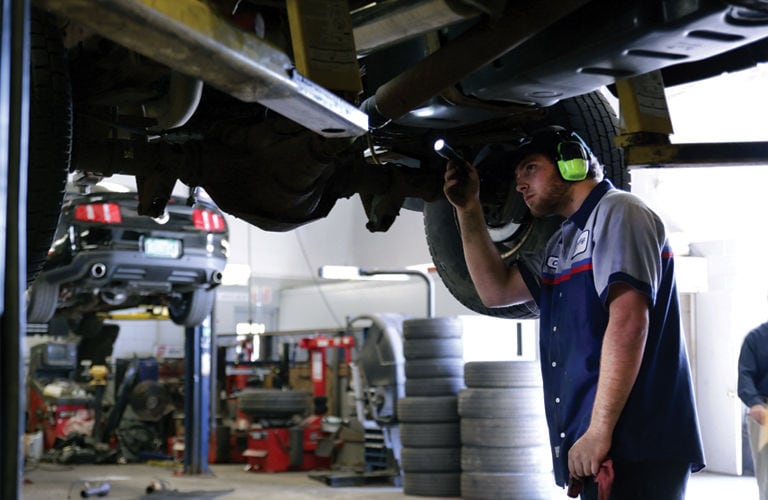 Why Service with Heritage Ford?
Why do we believe that your vehicle should be brought to Heritage Ford? Our professionally trained team is here to do the best work possible for you. Not only are they concerned with the service work, but they want to make the experience easy for you. There may be other places that you can go to get your vehicle serviced in the area, but we know that you won't find service like ours.It's never easy to be without a vehicle. That's why we work as quickly as possible to get your vehicle serviced. It is our team's top priority to get you back out on the road. We also make a point of giving you an honest estimation of the time it will take and how much it will cost to service your vehicle.
Quality Licensed Parts
Each vehicle out there is built to specification with quality parts, the first time around, but it may need some new parts after a few years of good miles. It is important to be certain that the new parts going in are just as good as, if not better than the parts your vehicle started with. Don't take a risk. Be certain that your new parts are quality licensed parts that are meant to be going into your Ford. Cutting corners with cheap aftermarket parts might only create more problems in the future.So get your quality parts here with us at Heritage Ford. We have a wide variety of parts in stock at all times. Though sometimes we may not have exactly what you're looking for. Fortunately, we can order new parts for you or you can order them yourself online. It takes almost no time at all for us to get the parts in and get them installed.